Hope everyone had a wonderful weekend.  Thought I'd share this nifty little storage bench I picked up at an estate sale.  I looked and it and it reminded me of something my grandpa would've made.  It was calling my name and I had to take it home. This is what it looked like when I got it.
[caption id="attachment_896" align="aligncenter" width="400" caption="Masonite Storage Bench"]
[/caption]
First I patched up some of the small holes with wood filler.  Than I removed the top and the vinyl seat fabric.  Underneath was smelly original foam padding so I tore that out as well.  Next I primed it.
Then I painted it and started working on the top.  I didn't want to use $22.00 foam padding so I used  $6.00 carpet padding instead.  You can see how I did that here.  I used upholstery/ drapery fabric to cover the top.
And here is the final product.
I love it.  I'm almost inspired to use it as a pattern and make a banquette with similar construction.  I think that would be awesome.
xo,
mONICa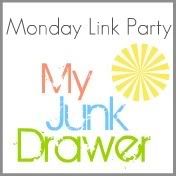 </center.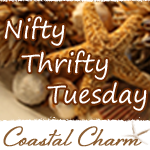 <img style="border: none;" title="Todays Creative Blog" src="http://todayscreativeblog.net/wp-content/uploads/2011/05/button.jpg" alt="Todays Creative Blog"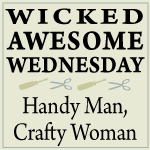 />